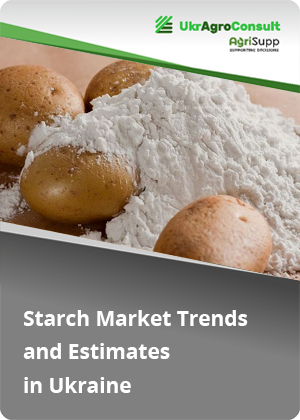 Starch market trends and estimates in Ukraine
UkrAgroConsult is preparing a market study Ukraine: Starch Market Trends and Estimates.
The downward price trend is observed on all commodity markets worldwide. Despite increased exports, the revenue from grain and oils exports is constantly decreasing.
In this light foreign starch trade looks like an exception. In 2015 Ukraine exported 35% more starch by volume and 11% more in money terms than a year before.
Starch production trends are also contrary to the rest of grain processing industry sectors – its production grows, while, for instance, flour production is constantly declining.
What are the main trends in starch market? Which markets can support this business in the near future? What are the main drivers in starch market? What are the prospects for further growth?
The details are available in the study by UkrAgroConsult "Starch market trends and estimates in Ukraine"
Starch market trends and estimates in Ukraine
Contents:
Summary
1.   Primary raw materials (grain, potatoes) for starch production in Ukraine
2.   Starch production trends in Ukraine
– Potato starch
– Corn starch
– Wheat starch
– Production of dextrin and modified starch
– Key factors influencing the starch production development
3. Foreign trade in starches
– Starch exports
– Starch imports
4.  Key starch consumers in Ukraine. Estimated consumption volumes. Outlook
5.  Drivers of the starch-and-syrup industry development
6.  Opportunities for deeper processing in the starch-and-syrup industry
7.  Use of starch-and-syrup industry by-products
8.  SWOT-analysis of the starch-and-syrup industry
9.  State policy and regulation
Write to us
Our manager will contact you soon
//= do_shortcode('[contact-form-7 id="284" title="Бесплатная консультация"]'); ?>