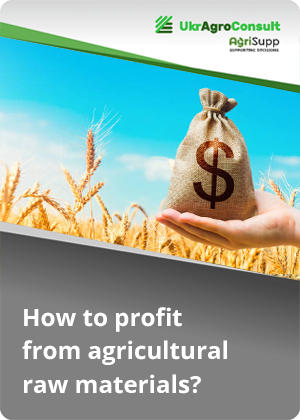 How to profit from agricultural raw materials
In fact, the new strategy now is short term tactical actions. How to turn raw grain and oil crops from useless stocks to highly profitable assets?
The war consequences have drastically changed farmers strategies:
 The best strategy now is an effective tactic for 2-4 weeks. Long-term strategies are not attractive. Production and sales terms are changing so rapidly making it useless to prepare and build long-term plans.

 The goal of farming business now – getting the highest possible profit / margin– is already in the past. This is no longer the main task, at least for the coming 4-6 weeks.
Achieving high profitability, which was the fundamental encouragement for the entire industry, has now faded. Currently, the main point is to get rid of grain stocks and empty the silos for the coming new crop. The aggravating shortage of grain elevators will further reduce farmer revenues from grain and oilseed sales. If so, farmers will face still low funding for winter crops planting and, if large corn areas end up unharvested, for spring-2023 planting as well.
But the war will end sooner or later, and then those who are already thinking about a new development strategy for Ukraine will be advantaged. The new strategy consists in turning from a commodity exporter into an exporter of high value-added products. After all, it is undisputable as the 2000s strategy turned Ukraine into a raw material supplier suffering from the inability to export the many millions of tons of raw materials.
These are the new strategies taken in consideration by UkrAgroConsult. Our team in 2022 summer pays special attention to development scenarios and proper long term strategies  for Ukraine's agricultural sector. UkrAgroConsult is confident that the practice of planning for 2-4 weeks is a short-term trend.
Our vision is  that great demand is focused on very likely short and medium term large-scale changes in farming sector of Ukraine. See the study "New Reality. Forecasts and Scenarios of Grain & Oil Markets in Ukraine."
The UkrAgroConsult team does not stop – we continue focusing the attention of market players on the new development stage of Ukraine. Our findings and analytics are contained in the new study "How to profit from agricultural raw materials."
In the study "How to profit from agricultural raw materials," market participants and potential investors will find an analysis of the most effective development areas for grain and oilseed processing, specifically the following:
the market of grain deep-processing products (wheat, corn)
the market of soybean deep-processing products
the market of liquid fuels (biodiesel, bioethanol)
the market of sugar beet deep-processing products
Perhaps you will see the area that is attractive for you
Write to us
Our manager will contact you soon
//= do_shortcode('[contact-form-7 id="284" title="Бесплатная консультация"]'); ?>