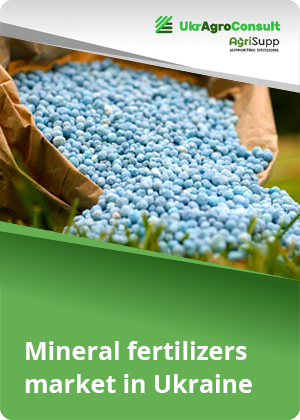 Mineral fertilizers market in Ukraine
In Ukraine, the relations between growers and mineral fertilizer manufacturers have been tense for a long time now; the parties have not yet succeeded in finding a compromise solution and establishing meaningful cooperation.
It is worth reminding that many growers fell victims to the chemical industry in the spring of 2017, when chemical plants of OSTCHEM Group received roughly UAH 2 Bl in prepayment from farmers for 300 KMT of fertilizers, but the manufacturers have not yet managed to supply the pre-paid products to them.
The current situation is fueled by a long-running conflict with NJSC Naftogaz Ukrainy, whom the chemical monopolist blames for shortfalls in gas supply.
As before, the stumbling block that brings imbalance to Ukraine's fertilizer market and poses an existential threat to the national chemical industry is defining criteria for the substantiation of Ukrainian product prices and elaborating a model of effective performance of the domestic market.
Participants of the Ukrainian mineral fertilizer market have no single opinion about the approaches to pricing of national products. A few main options are under consideration now.
Analytical Center "UkrAgroConsult" offers you a study "Ukraine: Market of mineral fertilizers" that covers several scenarios of the mineral fertilizer market development in the medium-term.
Mineral fertilizers market in Ukraine
Contents:
1.  Key trends in mineral fertilizer production in Ukraine
1.1. Regional production
1.2. Current market situation
1.3. Production dynamics
1.4. Domestic trade features
1.5. Brief description and specialization of top importers
1.6. Raw material sources for mineral fertilizer production
1.7. Outlook for mineral fertilizer production in Ukraine
2. Ukrainian market of mineral fertilizers
2.1. Key market players
2.2. Brief description of key fertilizer manufacturers presented in the Ukrainian market
2.3. Foreign trade in mineral fertilizers
2.4. Price behavior
3. Government regulation of the mineral fertilizer market
4. Use of mineral fertilizers in Ukraine's farming sector, outlook to 2022
5. Supply and demand balances
Write to us
Our manager will contact you soon
//= do_shortcode('[contact-form-7 id="284" title="Бесплатная консультация"]'); ?>