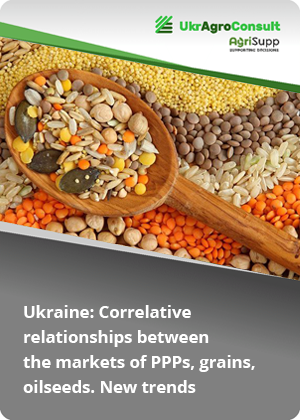 Ukraine: Correlative relationships between the markets of PPPs, grains, oilseeds. New trends
Ukraine has almost doubled production of grains and oilseeds over the past decade, from 50 MMT to 90 MMT. However, growing an abundant crop is not enough now, as priority is given to its quality and safety. This necessitates their control throughout the crop supply chain, from the growing stage to new-crop grain quality control, and then quality and safety control at storage, processing, and marketing. As the lion's share of grain and oilseed complex products (in raw or processed form) are shipped for export, the harvest must meet international safety requirements.
The parameters requiring special attention include control over content of hazardous chemical compounds that are used as mineral fertilizers and PPPs during fieldwork and get into the environment and cultivated crops.
Such control is of particular importance when growing food and feed products intended for export to countries where content of pesticides, dioxins, and polyaromatic hydrocarbons is regulated legislatively.
The above restrictions may considerably complicate Ukrainian agricultural exports. To remain competitive, Ukraine's market must be flexible and rapidly adapt to changing realities.
The study presents an analysis of the impact of currently used crop growing practices, including PPP application, on product safety. Minimizing the impact of hazardous substances on the environment and cultivated crops.
Analytical research
CONTENTS:
Ukraine: Correlative relationships between the markets of PPPs, grains, oilseeds. New trends
Trends and peculiarities of the PPP market in 2020/21 season. Key factors of pesticide market developments and changes. COVID pandemic's impact on the pesticide market.
Diseases and pests in 2020/21 season and forecast for 2021/22. Factors influencing disease and pest developments.
Crop production and PPP consumption patterns, relationship between them. Forecast for the crop production pattern.
Factors of PPP choice for optimizing the cost of crop production. How does it affect the PPP market development and player behavior?
Parity between biological and chemical PPPs. Current state and prospects of the bio-product market.
Review of changes in the requirements for content of active pesticide ingredients in agricultural products. Impact on growing practices, exports, greenhouse gas emission etc. Estimated probability of a near-term ban on active pesticide ingredients currently present in the market.
Market development scenarios and forecast.
This work is standard. UkrAgroConsult is ready to prepare an individual study at your personal request.
Any research can be expanded according to additional criteria. In addition, it is possible to purchase only the statistical part (Databases) in EXL format without analytics and forecasts.
Write to us
Our manager will contact you soon
//= do_shortcode('[contact-form-7 id="284" title="Бесплатная консультация"]'); ?>