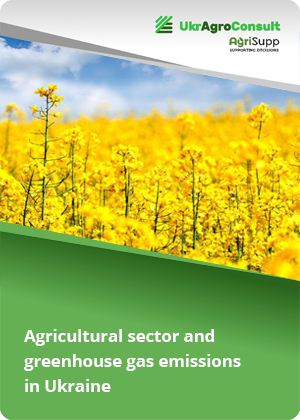 Agricultural sector and greenhouse gas emissions in Ukraine
Agriculture accounts for a significant share of total greenhouse gas emissions (some 15%). Due to increasing demand for foods, fuels and other products supplied by the farming sector, agricultural emissions to the atmosphere rise from year to year.
Until recently, Ukraine did not pay due attention to controlling and minimizing greenhouse gas emissions. It was not until the end of 2019 that the Verkhovna Rada (Parliament) passed the Law "On the Principles of Monitoring, Reporting and Verification of Greenhouse Gas Emissions."
The EU market is one of the most significant destinations for Ukrainian agricultural exports. Therefore, establishing an effective emission control system is an important task for the agricultural sector to successfully develop exports.
In particular, the criteria for crop suppliers and biofuel producers in EU countries are regulated by Directive 2009/28/EC of the European Parliament and of the Council of April 23, 2009 on the promotion of the use of energy from renewable sources. The Directive's key requirements include control over actual greenhouse emissions throughout the lifecycle of biofuel crops (growing, harvesting, drying, storage and shipping), as well as presenting formal reports.
The study "Ukraine: Agricultural Sector and Greenhouse Emissions" elaborates on the connection between current farming practices/technologies and greenhouse emissions, as well as on prospects for their control, regulation and reduction.
Agricultural sector and greenhouse gas emissions in Ukraine
Contents:
1. Greenhouse emissions in the agricultural sector. General trends
2. Corn and rapeseed production in Ukraine
2.1 Current state
2.2 Regional peculiarities
2.3 Prospects, drivers, risks
3. Corn and rapeseed growing practices in Ukraine
3.1 Review of corn and rapeseed growing practices
3.2 Use of environment-friendly land farming practices
3.3 Connection between crop rotation and greenhouse emissions
3.4 Fertilization practice
3.5 Certification of production
4. Monitoring of greenhouse emissions when growing crops
5. Livestock sector as a contributor to the growth in greenhouse emissions
5.1 Current state of the industry
5.2 Connection between existing livestock practices and technologies and greenhouse emissions
5.3 Prospects, drivers, risks
6. Economical solutions for increasing productivity and combating greenhouse emissions
6.1 Complex farming systems
6.2 Natural mechanisms of biological nitrogen fixation
6.3 Livestock waste processing technologies for solving environmental problems
6.4 Investment appeal
7. Possibilities for applying the market mechanism to regulate greenhouse emissions
8. Legal regulation of greenhouse emissions in the agricultural sector
9. Risk assessment in the agricultural sector in conditions of combating greenhouse emissions
Conclusions
Write to us
Our manager will contact you soon
//= do_shortcode('[contact-form-7 id="284" title="Бесплатная консультация"]'); ?>