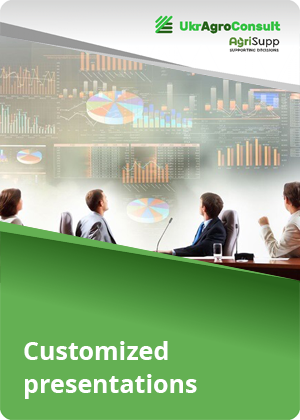 Customized presentations
Tired of long analytical reports?
Unwilling to follow news on a daily basis but need to understand the market movement direction?
Got market-related questions having no answers in standard reports?
We offer preparing an analytical presentation on agricultural markets for your company. For instance, the standard set of grain and oilseed market information includes the following:
Structure of winter crops: real-time data and our expectations for the final figures. Forecasts for the distribution of spring crop areas
Production potential estimates (winter crop condition, weather impact, yield etc.).
Export potential. Key destination markets and opportunities for opening up new ones
Trends in the market of processed products. Domestic and foreign trade features
Key stakeholders
Supply and demand balances
External and internal pricing factors (global market trends, trade wars, determinants of demand, the domestic market, the currency factor etc.)
We can hold a presentation of this work in your or our office, or an online presentation, and answer arisen questions, i.e. hold a discussion.
UkrAgroConsult covers segments such as crop production, processing, livestock raising, logistics, the inputs market, investment. Moreover, we offer developing individual business strategies and plans on request.
UkrAgroConsult specialists are often invited as speakers to many international and Ukrainian conferences.
In addition, UkrAgroConsult is the organizer of leading international conferences focused on the grain and oilseed markets, in particular the annual conferences "BLACK SEA GRAIN" and "BLACK SEA OIL TRADE" held in Kyiv.
The conferences provide exclusive market analytics from world experts, a discussion of global macroeconomic and regional trends, long-term forecasts for the commodity markets, as well as effective communication and personal contacts with leading agribusiness operators from more than 50 countries around the world.
Write to us
Our manager will contact you soon
//= do_shortcode('[contact-form-7 id="284" title="Бесплатная консультация"]'); ?>