TNAU launches high-yielding sunflower variety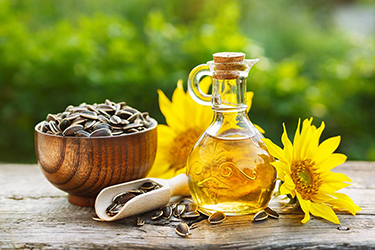 COIMBATORE: For many farmers who are looking to make a quick buck in the short term in between their cotton, sugarcane or vegetable cultivation, Tamil Nadu Agricultural University has come up with its latest hybrid variety of sunflower.
The hybrid variety of seeds were released in 2019. They can be grown in rainfed areas and are moderately disease resistant. TNAU scientists said demand for sunflower oil is high due to its nutritional benefits. Currently, India imports most of its sunflower oil from Ukraine, Russia and Argentina.
The latest variety of sunflower COH3 has 42% oil content, and can provide a yield of 716 kg per hectare. "The 90-day duration of this variety requires some irrigation, but it can grow in rainfed areas like Namakkal, Erode, Karur, Virudhunagar and Coimbatore," said Vishwanathan, a scientist at TNAU.
"The yield is almost 200 kg to 250 kg higher than traditional varieties," he said. It can be grown during the Kharif and Rabi season after the monsoon begins, even if the rainfall is below par.
Farmers can expect returns of Rs 30 to Rs 50 per kg of oilseed depending on the market. "This is in the seed stage. This variety is also moderately resistant to crop diseases such as necrosis, powdery mildew and alternia and tolerant to insects like sucking pests and leaf feeders.
While oilseeds are cultivated in Coimbatore it is dominated by groundnut, which is cultivated across 3,332 hectares of farmland. It is followed by gingelly, which is cultivated across hardly 170 hectares and castor which is cultivated across hardly 15 hectares. Sunflower, however, is not cultivated on an abundant scale in the region. "For farmers who are considering cultivating a cash crop, which does not require much water, because the North East monsoon rainfall is lower than normal this year, can consider sunflower," said S Geetha, director for centre for plant breeding and genetics.
Sunflower is supposed to be good for the heart, because it contains phytochemicals like choline and phenolic acid and lowers cholesterol, making many cardiologists recommend that their patients shift to olive oil or sunflower oil for cooking. In fact, this is what prompted the university to come up with this hybrid.
Tags: TNAU, high-yielding sunflower, oilseeds
Write to us
Our manager will contact you soon
//= do_shortcode('[contact-form-7 id="284" title="Бесплатная консультация"]'); ?>