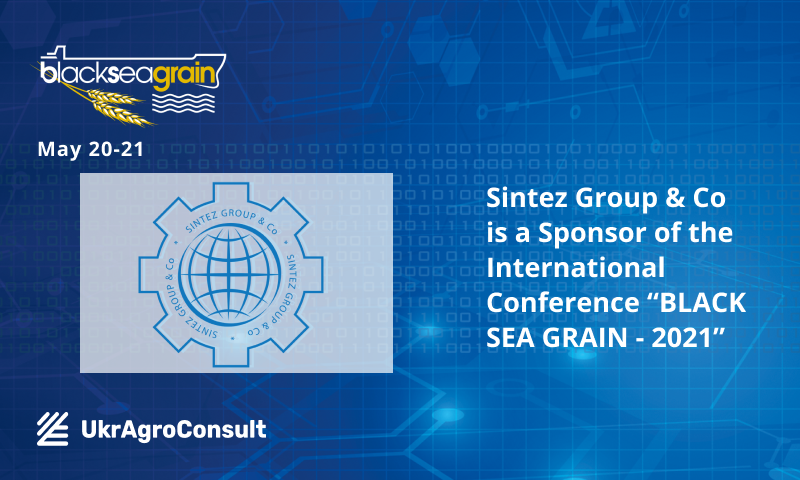 Sintez Group & Co is a Sponsor of the International Conference "BLACK SEA GRAIN – 2021"
UkrAgroConsult is pleased to announce that Sintez Group & Co as a Sponsor of the session "Pulses: Ukrainian and Global Market Prospects" within 18th International Conference BLACK SEA GRAIN – 2021, which will take place on May 20-21, Kyiv, Ukraine
Sintez Group & Co LLC is one of the largest Ukrainian pulse exporters and major supplier of agricultural products from the Black Sea region to world markets with more than 18 years of good reputation and experience.
Since its foundation in 2002 Sintez Group & Co LLC has proven to be a straight-forward partner, established stable and long-term business relationships with global agricultural market players.
The company is the biggest processor and exporter of Yellow Split Peas (YSP) in Ukraine. Sintez Group Yellow Pea processing facility has production capacity of 450 MT of Yellow Peas per day. It is one of the largest processing capacities of YSP in Europe.
Sintez Group & Co LLC exports more than 600.000 MT of agricultural products, 200.000 MT of which are whole and split yellow peas and remaining combination of Soybean, Corn, Barley, Wheat, Oilseeds (Flax and Rapeseed) and Animal Feed items.
Sintez Group & Co LLC has 2 facilities with more than 50.000 MT total storage capacity, re-conditioned with the latest technology and managed by international standards including HACCP, ISO 9001-2015, ISO 22000-2005. Both facilities are located in Odessa region close to main Ukrainian ports
Main Products are:
Pulses: Peas (Yellow Split Peas, Whole Yellow&Green Peas), Lentils, Chickpeas, Beans

Grains and Oilseeds: Wheat, Corn, Barley, Oats, Sunflower Seeds (SFS), Non-GMO Soybeans (Soya), Flaxseeds, Rapeseeds

Animal Feed items: Mustard Seeds, Sorghum, Bird Feed (Millet Seeds, Canary Seeds), Spices (Coriander), Feed Pellets which can be produced under special balanced feed mixtures formula so to meet  customers' different needs and cover poultry feed pellets – cattle feed pellets, etc.
Be reminded that the 18th International Conference "BLACK SEA GRAIN-2021" will be held on May 20-21 at the InterContinental Hotel, Kyiv, Ukraine.
Join agribusiness professionals at BLACK SEA GRAIN – 2021 and be the first to learn about the key success factors not only in the new season, but also in the new reality of the world agri market.
To see the preliminary agenda, please follow the link.
Here you can register for the Conference.
Here you will find a list of companies that have confirmed their participation. 20+ countries are already on board!
The conference venue, InterContinental Hotel, guarantees compliance with enhanced security measures for forum visitors and hotel guests in connection with COVID-19.
The first day will combine a live conference, meetings and Evening Cocktail on the terrace of InterContinental. The second day will be held virtually only. Conference stream and recording, virtual booths and networking will also be available within the event's online platform.
International Conference BLACK SEA GRAIN-2021 is a premiere event for the global leaders of grain and oilseed industry since 2004.
BLACK SEA GRAIN offers participants 2 days of exclusive agri market analytics and insights from the top industry experts, effective networking and meetings with players across the value chain, top managers, decision-makers and opinion leaders.
Located in the heart of the Black Sea region, the Conference annually brings together 700+ delegates from 50+ countries. Among them are: international producers and crushers of grains and oilseeds, agri holdings, commodity traders, banks and investment funds, commodity exchanges, government authorities and industry associations, shippers, brokers, insurance, surveying, law and consulting companies etc.
Register today, since two days of BLACK SEA GRAIN only happen once a year!
Here you will find information on the current conditions for traveling to Ukraine.
The Conference is organized by UkrAgroConsult. General Sponsor of the Conference – ACTAVA TRADING, Official Sponsor – Viterra. Sponsors – StoneX Group Inc, Euronext, Ayhan Sezer, Sintez Group&Co. The Conference is supported by GAFTA and Ukrainian Grain Association.
In case of questions regarding participation, advertising and sponsorship options, please contact:
Organizing committee
+380992207242
Tags: grain conference, online conference, BBLACK SEA GRAIN-2021
Write to us
Our manager will contact you soon
//= do_shortcode('[contact-form-7 id="284" title="Бесплатная консультация"]'); ?>