Oilseed rape area set for big rise driven by high rapeseed prices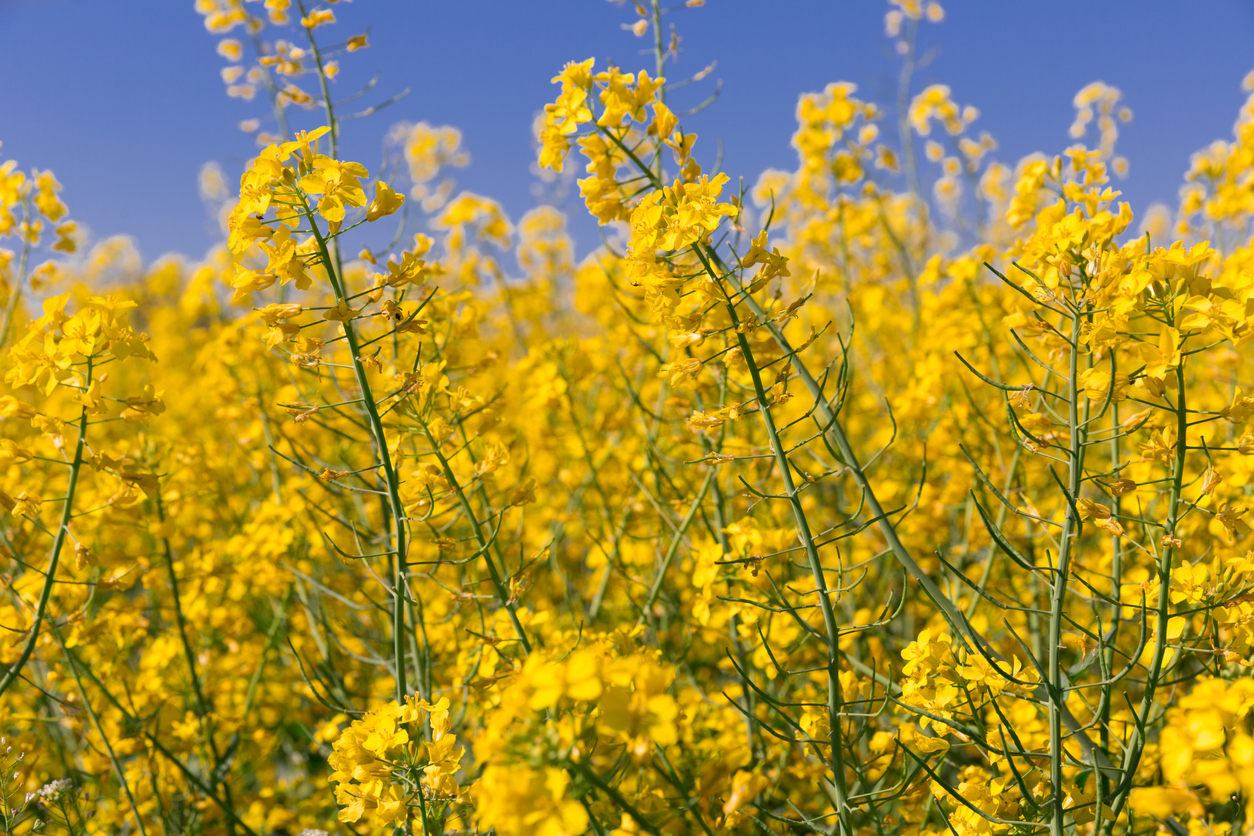 The oilseed rape area is forecast to rise nearly 30% next season as buoyant rapeseed prices are likely to offset concerns about crop establishment due to dry summer weather and pest attacks.
The Russia-Ukraine conflict has seen vegetable oil prices rise further after worldwide tight supplies had already put prices on an upward trend.
Current spot rapeseed prices are about £845/t ex-farm, compared with just over £300/t two years ago.
Owen Cligg, trading manager at growers' co-operative United Oilseeds, expects to see two near-30% annual rises in the area from the low 2021 harvest area and forecasts about 450,000ha will be drilled this summer for harvest 2023.
"We expect a near-30% increase in the area drilled this summer if conditions are right, despite growers facing higher fertiliser costs in spring 2023," he says.
Mr Cligg puts the UK harvested crop area in summer 2021 at about 280,000ha, the crop set to be cut this year at 350,000ha, and the area to be drilled this summer for harvest 2023 at 450,000ha.
A poor rapeseed harvest last year in Canada had already helped push prices higher before the Russia-Ukraine war broke out, meaning supplies from the world's two biggest sunflower oil producers were largely halted, sending all vegetable oil prices up.
This has pushed new-crop rapeseed for July harvest to about £700/t ex-farm, with prices only tempered by hopes of better harvests this year in major rapeseed-producing areas such as Canada and the EU.
The big UK crushers are scrambling around for supplies, as they have annual capacity to process 2m tonnes, but the 2021 UK crop only produced a sub-1m-tonne crop, sucking in imports from South America and Australia.
"It's very difficult to get bearish for the market with the current situation in Ukraine," Mr Cligg says.
The drilling area this summer, as usual, will depend heavily on the weather at sowing, with oilseed rape growers likely to drill a bigger area if they expect rain to follow soon to improve plant emergence and early growth.
Very dry drilling conditions in the summer of 2020 saw the UK oilseed rape area fall to a low point of 306,000ha, according to Defra, while United Oilseeds puts it even smaller at 280,000ha.
This compares with a high of 756,000ha at harvest 2012, which produced a massive 2.6m-tonne crop.
Many growers are using techniques such as early sowing and direct drilling, as well as employing fast-growing hybrid varieties and companion crops to overcome problems with dry summers and severe attacks from cabbage stem flea beetles.
Even though many see the crop as a stressful one to grow, with pigeon grazing often adding to early woes, the very high prices – which have almost trebled in the past two years – will attract more interest.
David Bouch, national seed manager at agronomy group Hutchinsons, says an area of 450,000ha drilled this summer would seem a reasonable forecast given the current high price of rapeseed, supported by the view that the UK is likely to be net importer of oilseed rape for the foreseeable future.
"We will almost certainly see a decision to plant an increase oilseed rape area for autumn 2022. Key to this will be planting when conditions are right. This could be as early as late July or as late as middle to end September, given warm soil and moisture," he says.
There has been some reduction in flea beetle pressure, although not for the whole country, with the reduced level of plantings over the past few autumns helping to reduce the threat from this pest, Mr Bouch adds.
Even with current high nitrogen fertiliser prices, he says the gross margin for the crop will compare favourably with other alternatives if establishment is good and the crops give an average yield of 3.5t/ha.
On variety choice, his preferred option would be to use hybrids, as they possess traits that conventional largely do not, such as resistance to turnip yellows virus (TuYV) and pod shatter.
Mr Bouch's three top hybrid picks include Aurelia and Aviron, as both have TuYV resistance, pod shatter resistance and RLM7 phoma resistance. Aviron also has the best light leaf spot resistance available on the AHDB Recommended List.
Adding to these two, he suggests PT303 with its sclerotinia tolerance.
On the conventional variety side, he picks out a further three. The older variety Campus has been remarkably consistent over eight years, while Acacia has looked a sound option over the past two seasons. Also among the conventionals, Annika shows TuYV resistance.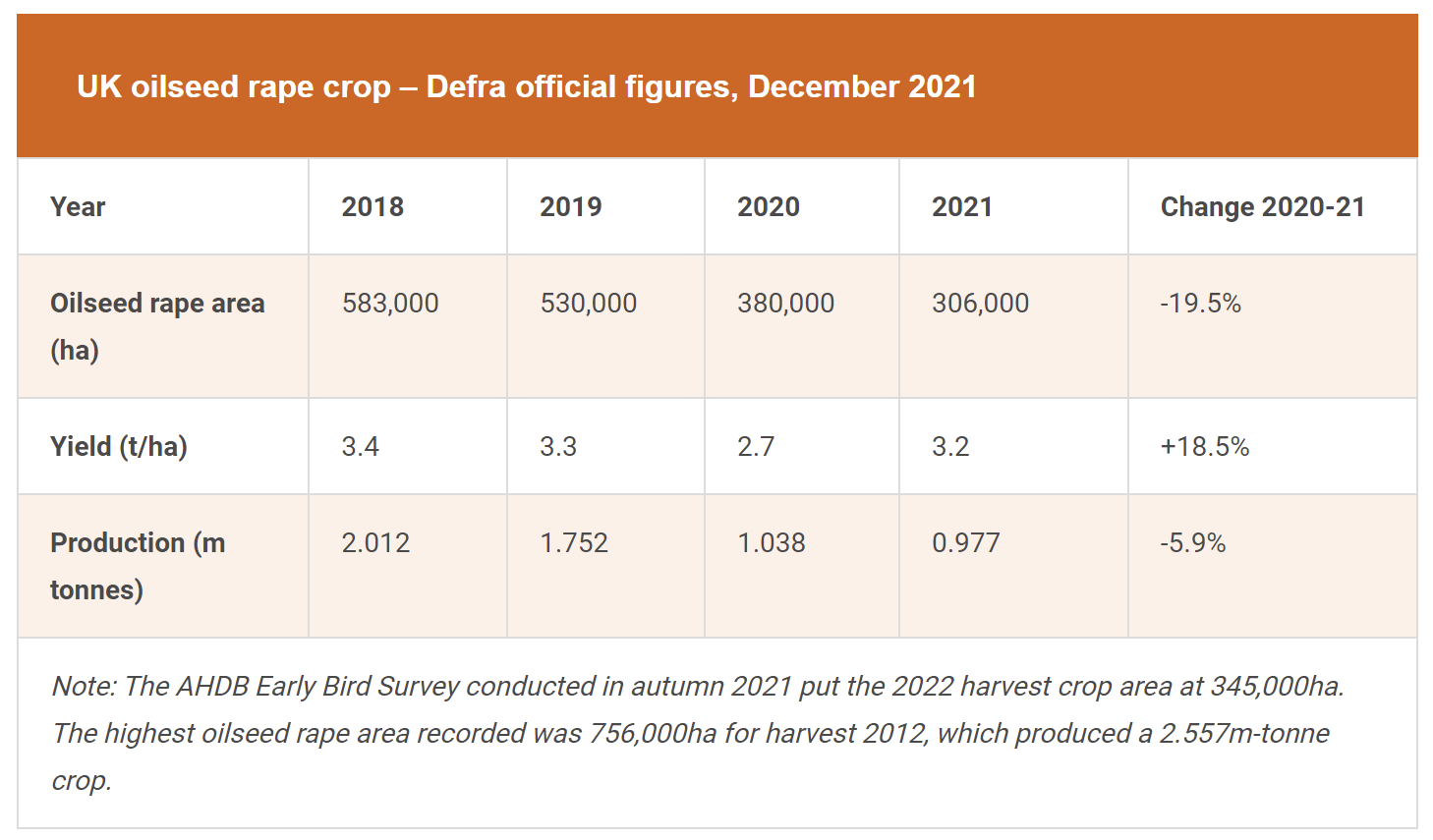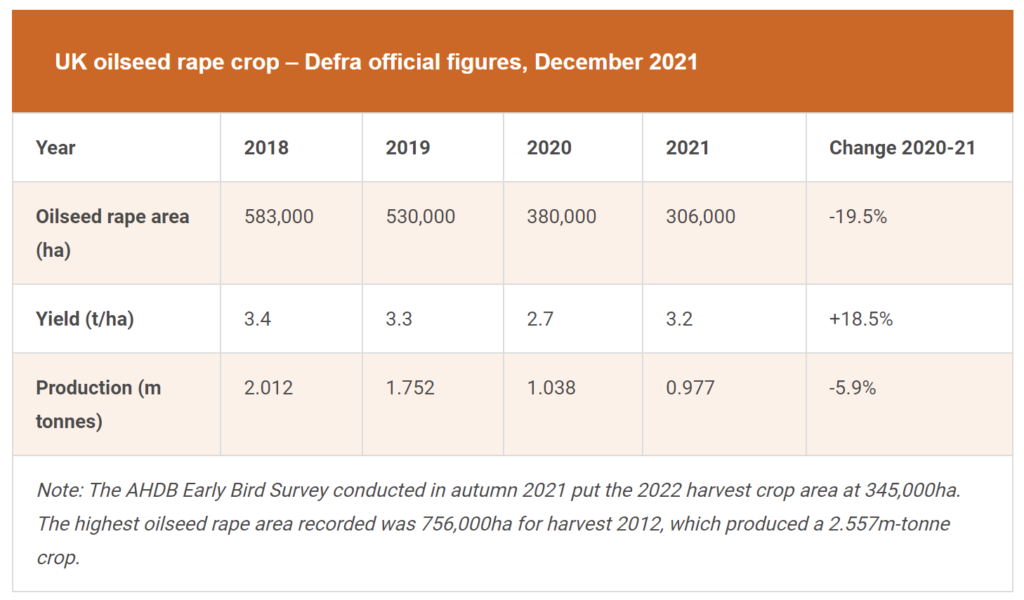 Tags: Ukraine, Russia, prices, weather, Vegetable Oil, rapeseed, crop, forecast, Fertiliser, costs, area, oilseed rape
Write to us
Our manager will contact you soon
//= do_shortcode('[contact-form-7 id="284" title="Бесплатная консультация"]'); ?>