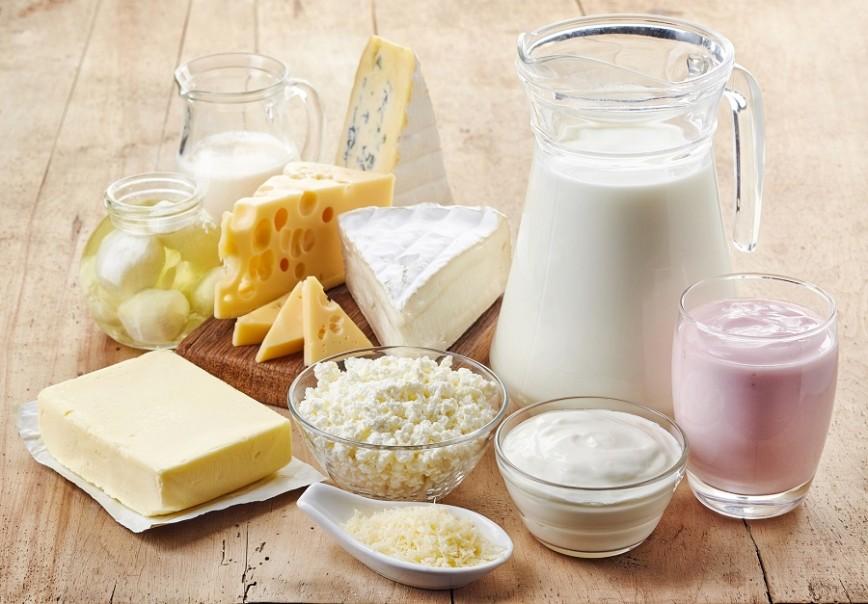 Country report: Uncovering China's dairy sector
China is a major global cow milk producer, with 31 million metric tonnes produced in 2019. According to the USDA, China's milk production is forecast to increase by 4.5% to 34.5 MMT in 2021.
In addition, the imports of dairy products and dairy ingredients are projected to rise as well, driven by consumer demand and the food processing industry. In reference to the China Agriculture Outlook Report (2020-2029) – dairy cattle productivity will continue improving as a consequence of large-scale dairy farms (more than 100 head of dairy cattle per farm), said the USDA.
Large-scale dairy farms have adopted state-of-the-art milking facilities and feed management techniques, both of which have increased productivity. It has been reported that these large-scale dairy farms account for nearly 70% of total dairy farms in 2020.
Major producers of cow milk worldwide in 2019, by country (in million metric tonnes)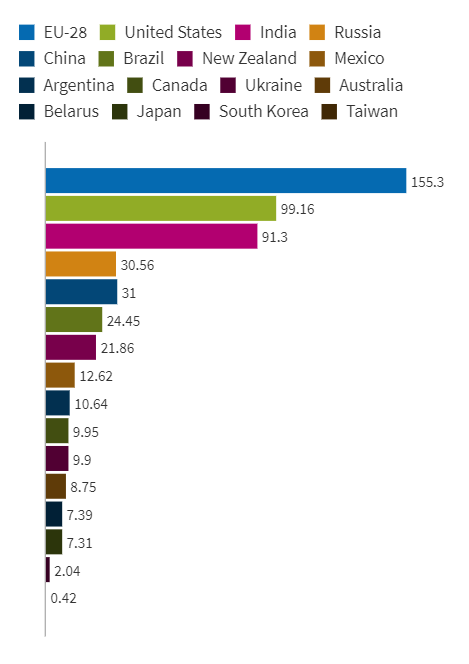 In August 2020, the Henan provincial government announced it will make provisions for a subsidy of RMB 5,000 (US$ 735) per head to farmers who build or expand their dairy farms with more than 100 heads of cattle. Additionally, the Henan government announced subsidies for farmers to import dairy cows (RMB 1,000 / US$ 147 per head) and breeding embryos (RMB 5,000 / US$ 735 each).
The 2020 China Dairy Data Report states that the Henan province is the 6th largest milk producer following Inner Mongolia, Heilongjiang, Hebei, Shandong, and Xinjiang. These 6 provinces in northern China produce nearly 66% of China's total fresh milk.
Trade and consumption
China is the world's largest importer of dairy products, and while China's dairy production has been flat since 2008, growth in consumption is apparent and the gap between supply and demand has been met by growing imports thus far. China's imports of fluid milk, mainly pre-packaged UHT milk, are forecast at 980,000 MT in 2021, an increase of 5% from 2020, urged on by demand from continued consumers and the food processing sector. According to a report by PWC, "UHT milk was the first dairy product to achieve widespread consumption, but fresh milk is becoming popular as cold chain distribution capacity grows and as consumers look for products viewed as more nutritious."
Chinese consumers' daily intake of dairy products is reported at 97 grammes (fluid milk) in 2019 – the number shows a big difference compared to the global average of 303 grammes. According to the USDA, the European Union (EU) remains the largest supplier of fluid milk to China, followed by New Zealand. The import of cheese to China is predicted to grow by 17% to 155,000 in 2021, due to strong demand. The top cheese suppliers are New Zealand and Australia. The top 2 dairy firms established in China are Yili and Mengniu.
Focus on sustainability
It has the world's largest population, and with this come increasing environmental concerns – there is no doubt that China urgently needs to develop effective ways to motivate sustainable food consumption and production.
Giant food firm Nestlé announced in late 2020 that it is investing a further RMB 400 million (CHF 53 million) in the country, saying it will complete an expansion and upgrade of the Nestlé Dairy Farming Institute (DFI). The DFI will also play a growing role in the companies drive to reduce greenhouse gas emissions in its supply chain. A series of emissions reduction projects at the DFI's own dairy farm will develop and showcase best practices, aiming to explore opportunities for 'carbon-neutral' fresh milk.
A paper by Jialing Yu and Jian Wu, associated with Renmin University of China, Beijing talks about greenhouse gas emissions in China. It states that GHG emissions In China account for 17% of the total GHG emissions. As the world's largest producer and consumer of N fertilizer, China's effort is essential for reducing N-related greenhouse gas. It further added, "Technological innovation still remains the primary driver of agriculture growth. In March 2018, China also undertook substantial institutional reform on the structure of central government, by establishing the new Ministry of Natural Resources to end the bureaucratic fragmentation of land planning and integrating regulatory responsibilities of pollution control (including agricultural pollution) into the new Ministry of Ecological Environment, which is expected to facilitate establishing a coherent policy system that attains agricultural–environmental objectives."
Future dairy farm
In China, most large-scale farms utilise modern production technology and feed management techniques to improve production efficiency and product quality. According to an action plan released by the Ministry of Agriculture and Rural Affairs (MARA) in January this year, the government will continue to support farmers and farmer cooperatives; the plan aims to continue building or upgrading 1,500 dairy farms and 100 dairy processing facilities each year through 2022. A report by PWC states that China's dairy farm modernization is currently highlighting standardisation, mechanisation, genetic improvement and farm scale. It added, "the next wave will be the shift to automated milking and feeding, and precision dairy farming. These technologies will further improve efficiency, productivity and animal health. Automated milking systems (AMS) is only used on an estimated 1-2% of cows in China.
Write to us
Our manager will contact you soon
//= do_shortcode('[contact-form-7 id="284" title="Бесплатная консультация"]'); ?>