Accelerating harvesting in the United States and raising harvest forecasts for Russia are lowering wheat prices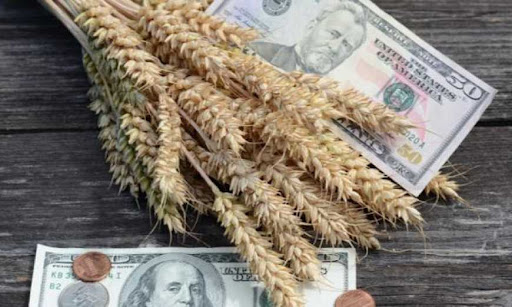 Expectations of a slowdown in the world economy collapsed stock markets, to which commodities reacted accordingly: last week oil prices began to fall, palm oil futures fell by 10% on Monday, and yesterday's wheat prices fell by 5-6.5%. Accelerating harvesting in the United States and raising forecasts for the wheat harvest in Russia are increasing pressure on quotations.
According to the weekly Crop Progress from the USDA, as of June 19, spring wheat was sown in 98% of the area in the United States, and seedlings were obtained by 89% (97% last year). The number of spring wheat crops in good or excellent condition for the week increased by 5% to 59% (27% last year). Heavy rains and high temperatures in May and June give hope for a good harvest.
Winter wheat in the United States is harvested on 25% of the area, which is 3% ahead of last year's rate. However, the number of crops in good or excellent condition for the week decreased by 1% to 30% (49% last year). According to USDA estimates, wheat yields and quality in the United States are slightly higher than expected this year, so production forecasts may be raised if spring wheat crops continue to grow well.
During the week of June 10-16, wheat exports from the United States decreased by 24% to 331.3 thousand tons, and in total in the season (starting from June 1) reached 970 thousand tons, which is 28.9% lower than last year.
SovEkon has raised its forecast for wheat production in Russia in 2022 by 0.6 million tons to a record 89.2 million tons due to an increase in the estimate of spring wheat sowing areas from 12.1 to 12.65 million tons and spring wheat yields from 1.7 to 1.82 t / ha against the background of favorable weather in the Urals and the Volga region. The increase in the spring wheat yield forecast compensated for the decrease in winter production, for which the yield estimate was reduced from 4 to 3.89 t / ha due to dry and hot weather in the south.
Yesterday wheat futures fell:
6.4% or $ 21.68 / t to $ 358.3 / t – July futures for soft winter SRW wheat in Chicago (-22% per month),
by 6.5% or $ 23.42 / t to $ 382.6 / t – July futures for winter winter HRW wheat in Kansas City (-22.5% per month),
4.8% or $ 19 / t to $ 410.7 / t – September futures for hard spring HRS-wheat in Minneapolis (-16%),
2.4% or $ 9.5 / t to $ 401.75 / t – July futures for Black Sea wheat in Chicago (-3.3%),
4.2% or € 15.75 / t to € 372.5 / t or $ 391.5 / t – September wheat futures on Paris' Euronext (-13%).
The European Union in 2021/22 MY failed to increase the rate of wheat exports, as high world prices due to the blockade of Ukrainian ports, reduce procurement. As of June 5, the EU exported only 25.3 million tons of wheat (25 million tons last year) from the projected USDA of 29.5 million tons, although the initial export forecast reached 37-39 million tons.
Expectations that Russia will reduce wheat exports as a result of sanctions imposed on the invasion of Ukraine have not materialized, as supplies to Syria, Iran and Turkey have increased at reduced prices. In addition, wheat stolen in Ukraine is supplied to Syria and Turkey.
Write to us
Our manager will contact you soon
//= do_shortcode('[contact-form-7 id="284" title="Бесплатная консультация"]'); ?>