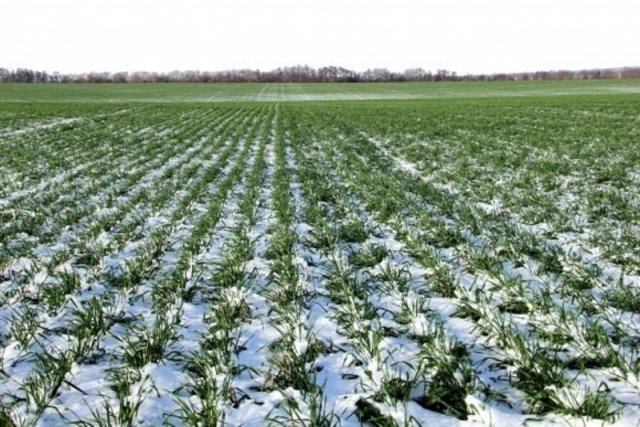 UkrAgroConsult
Ukraine. Winter crops are dormant, with no dangerous events for their survival in sight
Abnormally cold weather with dangerous meteorological events (fog, strong wind, snowstorm, ice-covered ground) dominated on February 19-21. Snow cover in the fields has been gradually melting in recent days.
At the time when ground- and snow-surface temperature fell to -15…-23ºC, winter crops were protected with 10-25 cm of snow. Only in the south it was not high enough to protect the plants from severe frost.
The air temperature drop was of short duration, therefore even at cold nights the lowest soil temperature at the tillering-node depth of winter crops did not decrease below -10ºC, i.e. it stayed above the critical level.
Winter crops are dormant, with no dangerous events for their survival in sight, UkrAgroConsult reports.
Weather forecast for March 2-7:
– Precipitation (10-15 mm) in the form of rain and sleet is expected in the western regions, while the central ones will likely receive 5-10 mm, the north and east will get 2-5 mm, and the south will be dry at all;
– Snow cover in the fields will decrease due to positive temperatures;
– Air temperature will be +10 … +12°C in the daytime, -1 … +1°C at night in the West; +4 … +6°C in the daytime, -2 … -4°C at night in the North; +6 … +8°C in the daytime, -2 … -4°C at night in Central Ukraine; +4 … +6°C in the daytime, -2 … -4°C at night in the East; +7 … +9°C in the daytime, 0 … -2°C at night in the South.
More detailed information on the latest trends in grain exports, supply and demand balances with breakdown by crop, price behavior, crop conditions and progress in harvesting/planting in the countries of Black Sea Region is available to subscribers for Online Analytics "Black Sea Grain" in the new innovative tool for agri market participants – AgriSupp by UkrAgroConsult. Subscribe to a 3-day free trial!!
Start using analytical data and increase your efficiency now!
Register to get your demo access: http://agrisupp.com/en/register/1
Tags: Ukraine, winter crops, weather
Write to us
Our manager will contact you soon
//= do_shortcode('[contact-form-7 id="284" title="Бесплатная консультация"]'); ?>