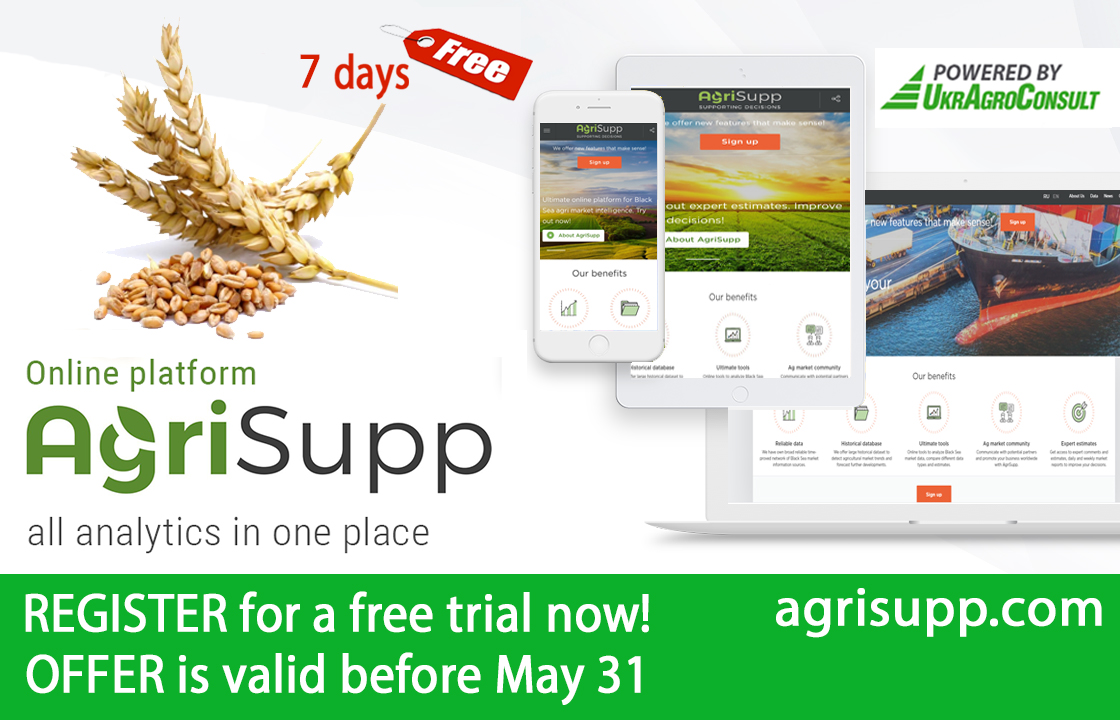 UkrAgroConsult
Ukragroconsult gives a week of access to the online analytical platform agrisupp
Global turbulence in the markets creates new risks in the agricultural business, and the most important task now is to keep abreast of new developments and trends, better understand the behavior of markets and adapt their business strategies in a rapidly changing world.
UkrAgroConsult strives to provide its customers with the best knowledge and understanding of the situation in order to make effective decisions. That is why we give the participants of the agricultural market 7 days of free demo access to the online analytical platform AgriSupp.
As part of the advanced demo access, you get access to 4 packages:
package "Analytics Black Sea Grain";
package "Analytics Black Sea Oil";
package "Legume Analyzes of the Black Sea and the World".
Premium Analytics package provides access to all three of the above packages.
Using test access to the Agrisupp platform, you can view 15 analytical articles and upload 5 reports per day. You can also view (without unloading) price information (1 year history) and export statistics for 2 seasons.
You also get access to UkrAgroConsult estimates of supply and demand balances (2 seasons) and USDA balance estimates.
Statistics of shipments from seaports of Ukraine, Russia, Romania and Bulgaria are available for the last 2 months (without uploading data).
AgriSupp is a state-of-the-art multi-functional online platform with market intelligence for grains, legumes and oilseeds. For more than 25 years of work in the agricultural markets of Ukraine and the Black Sea countries, UkrAgroConsult has accumulated an extensive database of market information, which became the basis of the platform.
AgriSupp enables you to:
gain access to daily operational information about the markets of the Black Sea countries, analytical reports, historical data;
apply new online tools for visualizing, comparing and downloading different types of market data;
always be aware of the ratings, forecasts and comments of the best experts of the agricultural market.
Start using analytic data and increase your efficiency now!
Register and get advanced demo access.
If you have questions, contact us by e-mail agrisupp@ukragroconsult.org, and we will be happy to answer you.
Write to us
Our manager will contact you soon
//= do_shortcode('[contact-form-7 id="284" title="Бесплатная консультация"]'); ?>