Trader Keeps Russian Wheat Flowing as War Sparks Food Dilemma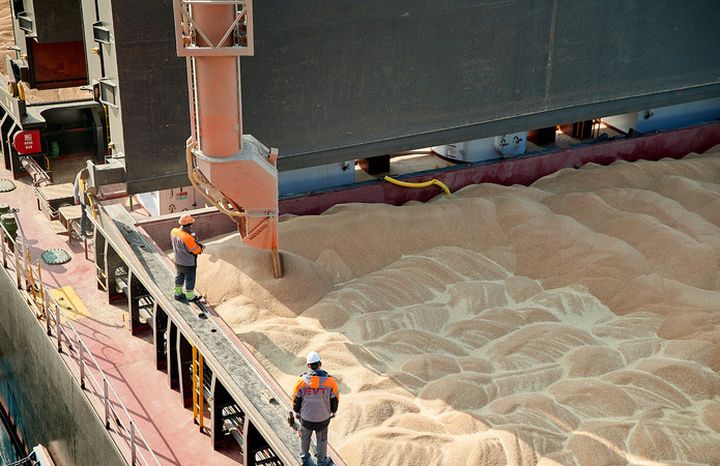 An international trader, backed by Canadian pension funds and Glencore Plc, is still exporting large volumes of Russian grain as Moscow wages war in Ukraine.
Viterra has kept its ranking, behind three Russian traders, as the No. 4 exporter of the country's wheat, corn, and barley in the first few weeks of the new season. It has shipped more than 850,000 tons of Russian grain since the invasion started on Feb. 24, according to shipping lineup data from Logistic OS.
The presence of Viterra highlights the dilemma facing western governments as they respond to Vladimir Putin's invasion. On the one hand, they've imposed sanctions on sectors such as finance and energy that — along with reputational concerns — have spurred trading houses to exit their Russian businesses. But at the same time, there are no sanctions on Russian grain, which policy makers want to keep flowing as the war worsens a global food crisis.
A spokesperson for Rotterdam-based Viterra said the company places "a high priority on global food security and ensuring the continued export of agriculture food and feed products."
The invasion pushed up grain prices as flows from Ukraine dried up, setting Russia up to reap windfall revenues from a bumper harvest. While Russia and Ukraine reached a deal last week aimed at releasing grain blockaded at Black Sea ports, implementing it will be a huge challenge.
Russia's foreign ministry has said it can't rule out the deal being disrupted if obstacles to its own agricultural exports are not eliminated. While Russia faces problems with shipping and insurance due to sanctions and the war, it's still managing to ship large volumes of grain.
The contradictions in Moscow's position risks wider political fallout as millions in Africa are threatened by hunger as a result of Russia's occupation and blockade of ports in Ukraine. That prompted a PR offensive by Foreign Minister Sergei Lavrov, who visited several countries on the continent this week that are among the most reliant on Russian and Ukrainian wheat. Lavrov blamed "illegal Western sanctions" for food shortages and inflation, despite there being no restrictions on Russian shipments.
While Russian traders have increased their market share in recent years as food sovereignty became a government priority and state-owned banks got involved in agricultural commodities, Viterra isn't the only international player to help keep the nation's grain flowing.
Cargill, owned by one of the richest families in the U.S., has also shipped substantial volumes of Russian sunflower oil and grain since the war began, although it has said it's committed to contributing any profits from essential activities to humanitarian aid. Louis Dreyfus Co. has also shipped some wheat and barley. The trading house, controlled by billionaire Margarita Louis-Dreyfus, declined to comment on its activities in Russia.
The new season started this month, with Russia exporting 30% more wheat in the first three weeks than a year earlier. For the moment, international traders are continuing to play a prominent role as Viterra shipped more than 100,000 tons of grain over that period.
Viterra, which is 49.99% owned by Glencore, has said it suspended new development and expansion projects in Russia since the war.
Write to us
Our manager will contact you soon
//= do_shortcode('[contact-form-7 id="284" title="Бесплатная консультация"]'); ?>