India transforms wheat for the world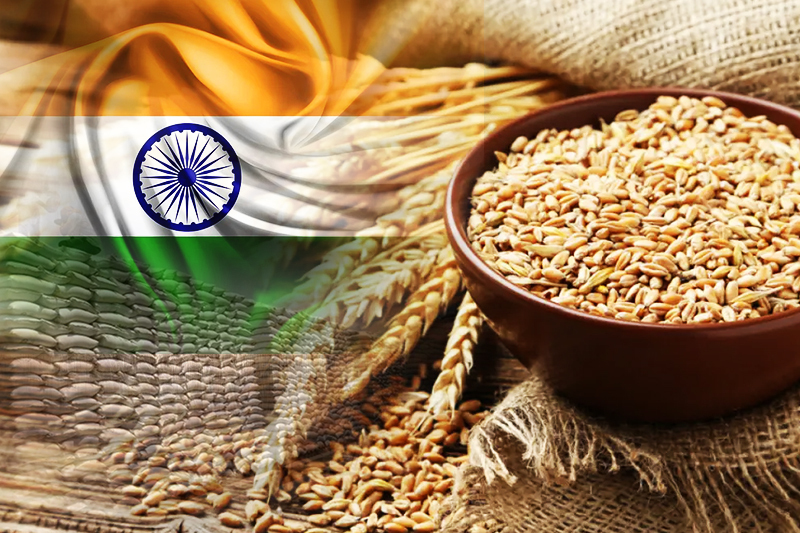 India can applaud a hallmark in national food production: in 2023, the harvest of wheat—India's second most important food crop—will surpass 110 million tons for the first time.
This maintains India as the world's number-two wheat producer after China, as has been the case since the early 2000s. It also extends the wheat productivity jumpstart that begun in the Green Revolution—the modernization of India's agriculture during the 1960s-70s that allowed the country to put behind it the recurrent grain shortages and extreme hunger of preceding decades.
"Newer and superior wheat varieties in India continually provide higher yields and genetic resistance to the rusts and other deadly diseases," said Distinguished Scientist Emeritus at CIMMYT, Ravi Singh. "More than 90 percent of spring bread wheat varieties released in South Asia in the last three decades carry CIMMYT breeding contributions for those or other valued traits, selected directly from the Center's international yield trials and nurseries or developed locally using CIMMYT parents."
Wheat grain yield in Indian farmers' fields rose yearly by more than 1.8 percent—some 54 kilograms per hectare—in the last decade, a remarkable achievement and significantly above the global average of 1.3 percent. New and better wheat varieties also reach farmers much sooner, due to better policies and strategies that speed seed multiplication, along with greater involvement of private seed producers.
"The emergence of Ug99 stem rust disease from eastern Africa in the early 2000s and its ability to overcome the genetic resistance of older varieties drove major global and national initiatives to quickly spread the seed of newer, resistant wheat and to encourage farmers to grow it," Singh explained. "This both protected their crops and delivered breeding gains for yield and climate resilience."
CIMMYT has recently adopted an accelerated breeding approach that has reduced the breeding cycle to three years and is expected to fast-track genetic gains in breeding populations and hasten delivery of improvements to farmers. The scheme builds on strong field selection and testing in Mexico, integrates genomic selection, and features expanded yield assays with partner institutions. To stimulate adoption of newer varieties, the Indian Institute of Wheat and Barley Research (IIWBR, of the Indian Council of Agricultural Research, ICAR) operates a seed portal that offers farmers advanced booking for seed of recently released and other wheat varieties.
Private providers constitute another key seed source. In particular, small-scale seed producers linked to the IIWBR/ICAR network have found a profitable business in multiplying and marketing new wheat seed, thus supporting the replacement of older, less productive or disease susceptible varieties.
Following findings from longstanding CIMMYT and national studies, more Indian wheat farmers are sowing their crops weeks earlier so that the plants mature before the extreme high temperatures that precede the monsoon season, thus ensuring better yields.
New varieties DBW187, DBW303, DBW327, DBW332 and WH1270 can be planted as early as the last half of October, in the northwestern plain zone. Recent research by Indian and CIMMYT scientists has identified well-adapted wheat lines for use in breeding additional varieties for early sowing.
Resource-conserving practices promoted by CIMMYT and partners, such as planting wheat seed directly into the unplowed fields and residues from a preceding rice crop, shave off as much as two weeks of laborious plowing and planking.
"This 'zero tillage' and other forms of reduced tillage, as well as straw management systems, save the time, labor, irrigation water and fuel needed to plant wheat, which in traditional plowing and sowing requires many tractor passes," said Arun Joshi, CIMMYT wheat breeder and regional representative for Asia and managing director of the Borlaug Institute for South Asia (BISA). "Also, letting rice residues decompose on the surface, rather than burning them, enriches the soil and reduces seasonal air pollution that harms human health in farm communities and cities such as New Delhi."
Sustainable practices include precision levelling of farmland for more efficient irrigation and the precise use of nitrogen fertilizer to save money and the environment.
Joshi mentioned that increased use of combines has sped up wheat harvesting and cut post-harvest grain losses from untimely rains caused by climate change. "Added to this, policies such as guaranteed purchase prices for grain and subsidies for fertilizers have boosted productivity, and recent high market prices for wheat are convincing farmers to invest in their operations and adopt improved practices."
To safeguard India's wheat crops from the fearsome disease wheat blast, native to the Americas but which struck Bangladesh's wheat fields in 2016, CIMMYT and partners from Bangladesh and Bolivia have quickly identified and cross-bred resistance genes into wheat and launched wheat disease monitoring and early warning systems in South Asia.
"More than a dozen wheat blast resistant varieties have been deployed in eastern India to block the disease's entry and farmers in areas adjoining Bangladesh have temporarily stopped growing wheat," said Pawan Singh, head of wheat pathology at CIMMYT.
Building on wheat's use in many Indian foods, under the HarvestPlus program CIMMYT and Indian researchers applied cross-breeding and specialized selection to develop improved wheats featuring grain with enhanced levels of zinc, a micronutrient whose lack in Indian diets can stunt the growth of young children and make them more vulnerable to diarrhea and pneumonia.
"At least 10 such 'biofortified' wheat varieties have been released and are grown on over 2 million hectares in India," said Velu Govindan, CIMMYT breeder who leads the Center's wheat biofortification research. "It is now standard practice to label all new varieties for biofortified traits to raise awareness and adoption, and CIMMYT has included high grain zinc content among its primary breeding objectives, so we expect that nearly all wheat lines distributed by CIMMYT in the next 5-8 years will have this trait."
A rigorous study published in 2018 showed that, when vulnerable young children in India ate foods prepared with such zinc-biofortified wheat, they experienced significantly fewer days of pneumonia and vomiting than would normally be the case.
The April-June 2018 edition of the "ICAR Reporter" newsletter called the five-decade ICAR-CIMMYT partnership in agricultural research "…one of the longest and most productive in the world…" and mentioned mutually beneficial research in the development and delivery of stress resilient and nutritionally enriched wheat, impact-oriented sustainable and climate-smart farming practices, socioeconomic analyses, and policy recommendations.
Speaking during an August 2022 visit to India by CIMMYT Director General Bram Govaerts,  Himanshu Pathak, secretary of the Department of Agricultural Research and Education (DARE) of India's Ministry of Agriculture and Farmers Welfare and Director General of ICAR, "reaffirmed the commitment to closely work with CIMMYT and BISA to address the current challenges in the field of agricultural research, education and extension in the country."
"The ICAR-CIMMYT collaboration is revolutionizing wheat research and technology deployment for global food security," said Gyanendra Singh, director, ICAR-IIWBR. "This in turn advances global peace and prosperity."
According to Govaerts, CIMMYT has concentrated on strategies that foster collaboration to deliver greater value for the communities both ICAR and the Center serve. "The way forward to the next milestone — say, harvesting 125 million tons of wheat from the same or less land area — is through our jointly developing and making available new, cost effective, sustainable technologies for smallholder farmers," he said.
Wheat research and development results to date, challenges, and future initiatives occupied the table at the 28th All India Wheat & Barley Research Workers' Meeting, which took place in Udaipur, state of Rajasthan, August 28-30, 2023, and which ICAR and CIMMYT wheat scientists attended.
Tags: China, harvest, grain, CIMMYT, Production, wheat, India, yields, crop, Food
Write to us
Our manager will contact you soon
//= do_shortcode('[contact-form-7 id="284" title="Бесплатная консультация"]'); ?>