Forecasts and scenarios for the recovery of the agricultural sector of Ukraine, 2023-2025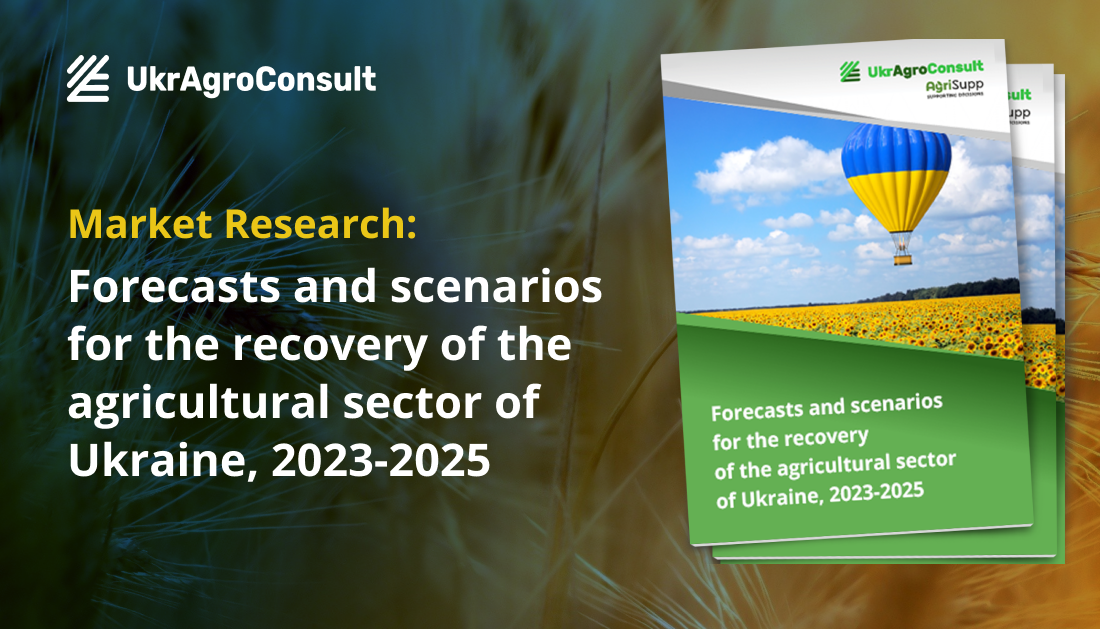 The war is a great  shock to Ukrainian economy. In March-April 2022, almost all economy of the country plunged at its worst pace with 80-90% of businesses closed and diving into the financial collapse. But surprisingly economic activity in Ukraine was much less disrupted. The agricultural sector is no exception, moreover, according to the 2022 reports, it was the agro-industrial complex that became one of the main supporter of Ukrainian economy.
However, market behavior in the 2022 was largely determined by the positive trends of 2021. But for 2023-2025 grain and oilseed harvest and exports will be under pressure of other and much more diversified factors. This will change the behavior of both the domestic and world markets, decisions of  farmers, traders, and logistic companies.
Last May, UkrAgroConsult offered to the market operators forecast of those large-scale short and medium term changes that are likely to happen in 2022. The research includes the potential scenarios of events, what strategic decisions can be the best. Much of these forecasts has already been turned into reality determining new trends, some shifts are still under development, requiring more time to materialize and more detailed monitoring.
New players, new projects and new barriers affect the future of the agricultural sector of Ukraine, the future of the food industry and logistics routes.
To make business function and generate profit – for this it is no longer enough just to sow the area with only sunflower and then wait for the war over. Now it is necessary to create a new strategy for your business, taking into account key factors, which is expected to frame the investment decisions in the coming years.
The new updated version of the UkrAgroConsult study helps answer these questions and support your business: Forecasts and scenarios for the recovery of the agricultural sector of Ukraine, 2023-2025.
The study discusses the following points in detail:
How and at what expense Ukraine's economy managed to persevere?
What are the economic development forecasts for 2023-2025?
Old and new problems in the agricultural sector and ways to overcome them
New trends in the agricultural and processing sectors
Forecast for the new 2023/24 harvest. Is there reason for optimism?
Investors should get prepared – which industries are being monitored by the funds
Is domestic consumption a weak point?
Change of agricultural market leaders: the process has moved forward
Should we expect a boom in sales/purchases of enterprises
Is the land market alive?
The logistics sector: new projects are just around the corner
Tags: Ukraine, investment, logistics, supply and demand balance, food safety, war
Write to us
Our manager will contact you soon
//= do_shortcode('[contact-form-7 id="284" title="Бесплатная консультация"]'); ?>