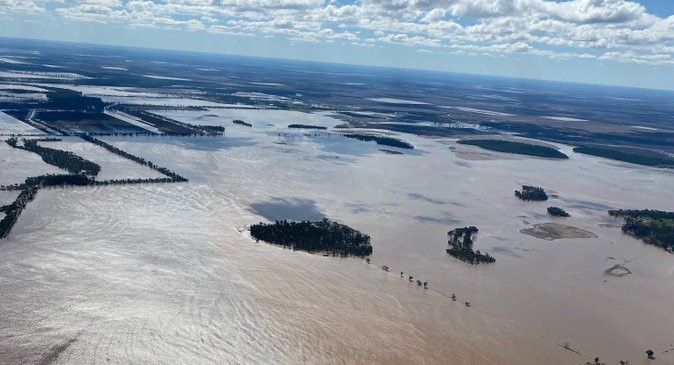 Forbes given partial all-clear as floodwaters drop but Condobolin bracing for more crop losses
Flood conditions have eased for some parts of New South Wales' central west but communities downstream of Forbes are on alert as floodwaters move along the Lachlan River.
The evacuation order in Forbes has again been partially lifted, with only a handful of areas now unsafe.
Properties along Ooma, Bathurst and Ferry streets, and part of the Escort Way, are among those allowed to return.
The order comes after the Lachlan Valley Way, between Cowra and Gooloogong, and the Newell Highway, between Cross and Lachlan Streets, have reopened.
Residents along roads including Stacey Street, Wandary Lane and the Lachlan Valley Way remain under an evacuation order and are not safe to return until a formal "all-clear" notice is issued.
While light rain fell across the region over the weekend, more wet weather is forecast for later this week.
Forbes residents have been warned it could result in further river rises and increased flooding in the days following.
State Emergency Service crews are supplying sandbags to the community of Condobolin, 100 kilometres north-west of Forbes.
Water will move down the Lachlan River over the coming days.
Moderate flooding is expected at Condobolin on Saturday.
Incident Controller Ben Pickup says while the township of Condoblin is unlikely to be impacted, agricultural areas could be hit, and residents should be careful.
"We've had a number of flood rescues over the last few days and we encourage people to stay out of the water," Mr Pickup said.
Mr Pickup said it looks as though the region is in for a very wet season.
"It's too early to say in regards to the worst of the flooding; we've definitely seen improvement in the weather, but as we're still in La Nina conditions we expect to see further heavy rainfall in the coming months," he said.
WaterNSW has dropped the level of the Wyangala Dam by about 10 per cent.
The storage at the top of the Lachlan River catchment peaked at 105 per cent last week but has been lowered to 94 per cent ahead of forecast rainfall.
WaterNSW spokesperson Tony Webber said releases have been made in preparation for expected inflows over the weekend.
"That rain event actually largely missed us in terms of the full intensity of it and really hit the northern parts of the state," Mr Webber said.
From Wednesday another 60 millimetres of rain is expected to fall over three days in the dam.
"We're in a pretty good position for a reasonably significant rain event this week," he said.
He said it was a balancing act on whether to drop the water levels even further because it would impact downstream communities.
"If you're releasing those sorts of volumes, you're putting them into a very, very narrow river downstream which in itself is likely to receive inflows from tributaries".
Tags: rain, New South Wales, flooding, flood conditions, agricultural areas
Write to us
Our manager will contact you soon
//= do_shortcode('[contact-form-7 id="284" title="Бесплатная консультация"]'); ?>