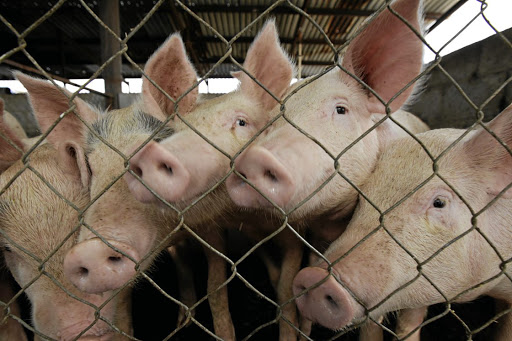 Chinese piglet prices soar as swine fever raises supply fears
Unapproved vaccines may have accelerated spread of new strains in world's biggest pork market
Hog futures and piglet prices in China have jumped as authorities struggled to control outbreaks of African swine fever, with virus strains and illegal vaccines prompting supply fears in the world's biggest pork market.
Scientists said the new variants, which have left commodities traders scrambling for information, were spreading more easily than the dominant variety of the pathogen. They have also raised the risk of a more protracted disruption to supply for the largest producer and consumer of the meat.
"Obviously the markets know there's a problem," said Darin Friedrichs, an analyst at commodities broker StoneX Group in Shanghai.
ASF, which does not affect humans, has hit China's pork production since it began spreading in 2018. Beijing has predicted a steady recovery in supplies this year after falling to a two-decade low in 2020, but analysts said the virus strains could threaten those forecasts.
There is no treatment or cure available for ASF, although China has been holding clinical tests for a vaccine since last year.
Wayne Johnson, a veterinarian consultant at Enable AgTech Consulting in Beijing, said farmers' widespread use of unapproved vaccines was partly to blame for the mutations that led to the new strains. Mutations "will happen no matter what, but there's a great deal of frustration because of the lack of information", he added.
Justin Sherrard, an analyst at investment bank Rabobank, downgraded his forecast for growth in China's pork production to 8 to 10 per cent this year, from a previous forecast of 10 to 15 per cent, due to the strains.
Enable AgTech's Johnson said it would take at least two years for China's hog herd to climb back to levels seen in 2018 before ASF became endemic. "There are signs that ASF is changing from deadly disease to a chronic disease," he said.
Piglet prices — which have been a good predictor of future wholesale pork prices since ASF reached China — are soaring. Since concerns over strains of the virus that causes ASF began to mount in December, prices have risen more than 15 per cent to Rmb93.2 ($14.30) a kilogramme. That is significantly higher than an average of Rmb20 in the months before the epidemic, but below the record of more than Rmb100 last year.
Dalian-traded hog futures, which were launched in January and allow investors to bet on the direction of hog prices, have also risen sharply.
Wholesale pork prices in China have dropped 8 per cent to Rmb47.46 a kilogramme this year, but analysts attributed this to a temporary increase in supplies as farmers slaughtered more of their herds over fears of the new strains.
The Harbin Veterinary Institute in northern China said in research published last month that it had documented several new strains of the virus that causes ASF. These variants produced milder symptoms that were harder to diagnose, enabling the disease to spread undetected for longer.
Industry observers have expressed concerns that the use of illegal ASF vaccines may have contributed to faster mutation of the virus. In January, an official at Chinese pork producer New Hope Liuhe said a strain found in more than 1,000 of its hogs was "definitely man-made", according to Reuters.
China's Ministry of Agriculture has repeatedly warned against the use of unapproved jabs, saying last week they posed "a major safety risk".
Tags: China, African Swine Fever, Piglets, ASF, vaccines, piglet prices
Write to us
Our manager will contact you soon
//= do_shortcode('[contact-form-7 id="284" title="Бесплатная консультация"]'); ?>