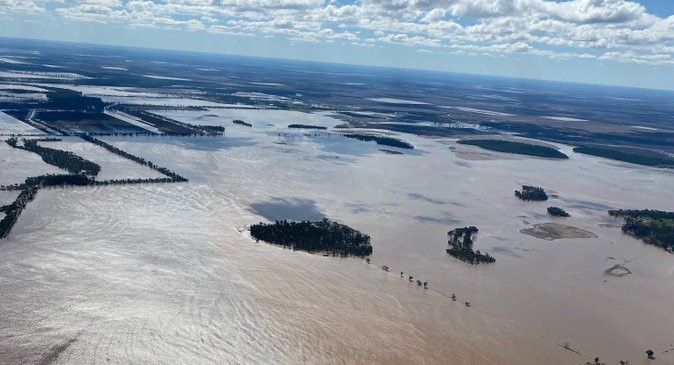 Canada: grain shipments uncertain amid B.C. floods
It is too early to determine the effect of massive floods in British Columbia's Lower Mainland on grain movement, according to the company monitoring Canada's grain handling and transportation system.
As much as 200 millimetres of rain earlier this week have triggered mudslides and cut access to rail lines and highways east of Vancouver. The natural disaster has forced the Port of Vancouver to halt all rail shipments going in and out. Vancouver's port moves $550 million worth of goods a day, according to Reuters, which will also negatively affect consumers and Canada's two major railways, Canadian National Railway and Canadian Pacific Railway
"Right now, it's a kind of a situation where the railways don't know how bad it is," said Mark Hemmes, president of Quorum Corp. from Edmonton.
"There are so many washouts. There are multiple washouts, multiple (mudslides). They're going to have to assess what they have to do to get their lines back."
Last summer's drought conditions in Western Canada have resulted in fewer grain shipments this year. Western Canadian shipments from the Port of Vancouver are down 31 per cent compared to last year, according to Quorum Corp. However, Hemmes believes that if means of transport are cut off for more than a week, vessels will start to back up. Adding to the complications is a lack of access to highways going east of B.C.'s largest city, putting a stop to container traffic.
"By not having the ability to serve the container terminals, for instance, the container terminals will start to back up. I think that's probably as much of a concern, if not greater than what's going to happen to the full commodities," Hemmes said.
Rail service will likely be restored faster than highways, according to Hemmes, as both CN and CP examine how the floods will affect movement.
A spokesperson for CP announced in a statement Nov. 17 that "CP has deployed crews and equipment to the region, and CP engineering teams are working to repair the damaged rail corridor as quickly as possible where safe to do so. There is no time estimate for when service will resume."
On Nov. 16, CN delivered an update on the situation, which said that "crews are inspecting the affected areas and carrying out repairs which are
critical to the passage of railway traffic through southern B.C. The repair work is progressing safely, but northbound and eastbound traffic from Vancouver, as well as inbound to Vancouver from east/north of Kamloops continue to be impacted."
At an investor conference hosted by the Bank of Nova Scotia on Nov. 16, executives from both railways told participants they expect rail service to be disrupted for a few more days.
"We're still sort of uncovering what it all means, but certainly that's our busiest corridor out in that region," said CP chief marketing officer John Brooks, whose railway is experiencing an outage 120 kilometres east of Vancouver.
"Quite frankly, we'll probably be out a couple more days," CN chief marketing officer Rob Reilly said.
"We've got some significant spots and it puts probably both railroads out for that period of time. The volume will still be there. So then it'll look to recover the railroad over the next several days coming out of that."
According to BNN Bloomberg, CN chief executive officer JJ Ruest told investors lost revenue from the outages, which represent five percent of the railway's shipping volumes, can be recuperated by raising shipping prices to move cargo within Western Canada.
Tags: grain handling, Canada, rail, transportation, massive floods, British Columbia
Write to us
Our manager will contact you soon
//= do_shortcode('[contact-form-7 id="284" title="Бесплатная консультация"]'); ?>