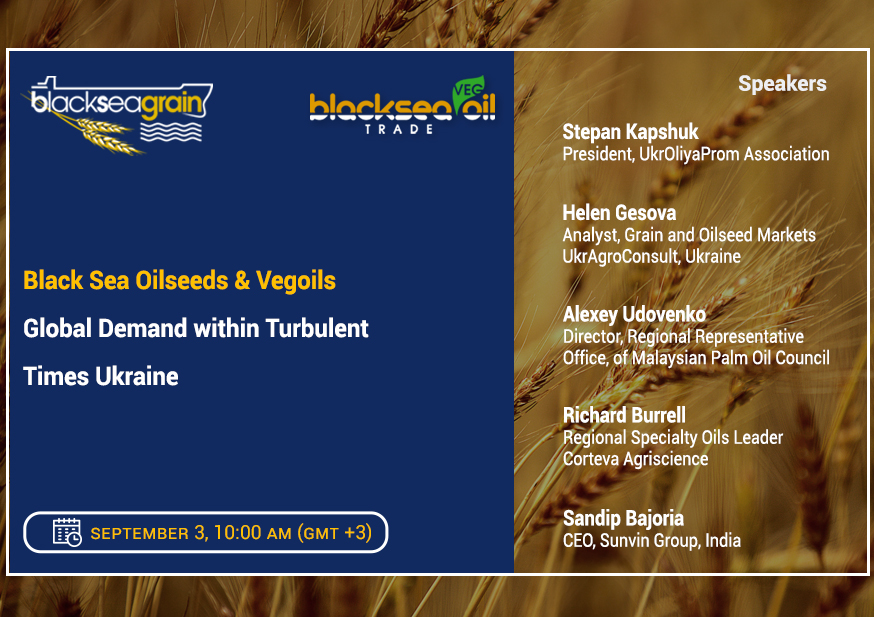 BLACK SEA OILSEEDS & VEGOILS. GLOBAL DEMAND WITHIN TURBULENT TIMES UKRAINE – PRESENTING SPEAKERS
The Black Sea Grain & Oil Trade-2020 conference is approaching! This year's program promises to be especially rich and interesting – not only will it gather speakers from all continents, but also combine the topics of the two industries – grain and oilseed!
The second day of the conference will be opened by a session dedicated to the world's largest oil producers:
BLACK SEA OILSEEDS & VEGOILS. GLOBAL DEMAND WITHIN TURBULENT TIMES UKRAINE
Ukraine: has the veg oils production hit the growth limit?
Stepan Kapshuk, President, UkrOliyaProm Association
Competition in the target vegoil markets. Is demand outlook for vegoils optimistic in the 2020/21?
Helen Gesova, Analyst, Grain and Oilseed Markets, UkrAgroConsult, Ukraine
Malaysia. New factors for increasing competitiveness in the veg oils market
Alexey Udovenko, Director, Regional Representative Office, of Malaysian Palm Oil Council
COVID-19 impact on the hight oleic sunflower market (ONLINE)
Richard Burrell, Regional Specialty Oils Leader, Corteva Agriscience
India. Features of demand for veg oils in the new season (ONLINE)
Sandip Bajoria, CEO, Sunvin Group, India
You can find the detailed agenda here
Join us to learn about the key success factors in the current turbulent global markets.
Register now to join the extensive professional event of the Black Sea market! 20 countries are already with us!
Be reminded that International Conference «Black Sea Grain & Oil Trade-2020» will be held on September 2-3, 2020 in Event Hall Obolon, Kyiv, Ukraine.
The Conference is organized by UkrAgroConsult. General Sponsor of the Conference – ACTAVA TRADING, Exclusive Financial Sponsor – Credit Agricole. Official Sponsors – Sierentz, МРОС. Sponsors – NIBULON, StoneX Group Inc. The Conference is supported by GAFTA, Ukrainian Grain Association and UkrOliyaProm Association.
Write to us
Our manager will contact you soon
//= do_shortcode('[contact-form-7 id="284" title="Бесплатная консультация"]'); ?>