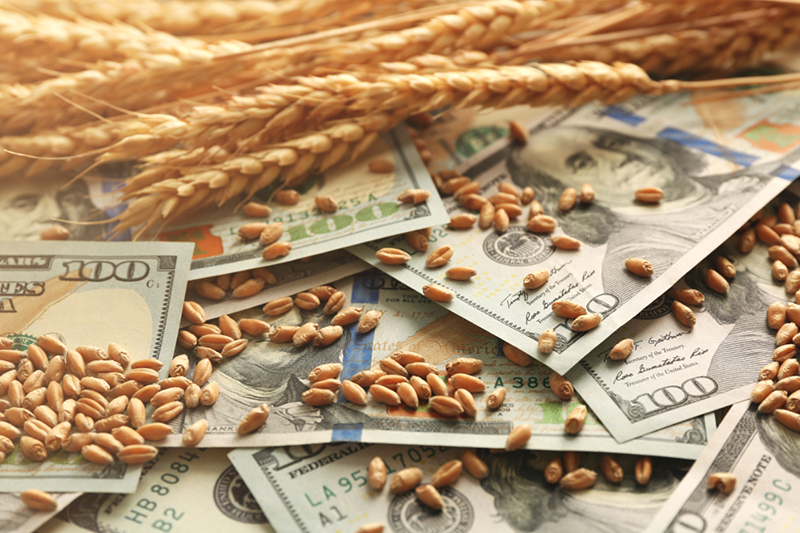 Purchase prices for food wheat in Ukrainian ports have crossed the level of UAH 10,000 / ton
Global wheat prices fell yesterday amid traders ' profit-taking after a rapid increase the day before. However, in Ukraine, food wheat continued to rise in price due to a shortage of supplies and a 2.6% decline in the hryvnia exchange rate against the dollar.
December European wheat futures on Paris Euronext after rising on Monday-Tuesday by 12 €/ton to a record 311.5 €/ton yesterday fell by 5.25 €/ton to 306.25 €/ton or 343.5 € /ton, adding 9.4% for the month, and in general from July 1 – 48% of the price, although the EU wheat harvest in the current season will be 10% higher than last year.
Ethiopia canceled the tender of November 9 for the purchase of 300 thousand tons of wheat, as it considers the price of a single offer for the supply of 150 thousand tons at 3 379/ton CFR too high. It again confirmed the unwillingness of importers to buy wheat at high prices.
On US stock exchanges, traders were also actively taking profits after a three-day price increase, especially given the Thanksgiving weekend on Thursday and the shortened working day on Friday.
December futures on US stock exchanges fell:
by 7 7.07 / ton to Чикаго 307.5/ton for soft winter SRW wheat in Chicago,
by 2 2.02 / ton to H 320.9/ton for hard winter HRW wheat in Kansas City,
by 0 0.55/ton to.380.9 / ton for hard spring HRS wheat in Minneapolis.
Dry weather forecasts for the coming weeks in winter wheat growing regions in the United States, which may worsen the condition of crops, support winter wheat prices.
In Australia, News of a decline in Wheat Quality sharply raised purchase prices, as farmers stopped sales in anticipation of the completion of harvesting and receiving final data on the quality of the crop. Therefore, the markets will have an additional support factor for several weeks.
Filipino importers purchased 100 thousand tons of Australian feed wheat at a tender for delivery in February – March at a price of 3 340-350/ton of C&F.
December Black Sea wheat futures on Chicago SWOT fell by 4 4.25/ton to.347/ton from Tuesday under pressure from lower demand and prices for American and European wheat.
Supply prices for Black Sea Food wheat remain at a high level of 3 340-345/ton FOB, but a sharp decline in demand from Turkey was recorded, caused by the collapse of the lira exchange rate and a rise in the price of imported products.
In Ukraine, purchase prices for food wheat crossed last year's maximum of 9700 UAH/ton and another psychological level, reaching a record 10000-10150 UAH/ton or 332-333 $/ton in ports.
Write to us
Our manager will contact you soon
//= do_shortcode('[contact-form-7 id="284" title="Бесплатная консультация"]'); ?>