How Russian Ships Are Laundering Grain Stolen From Occupied Ukraine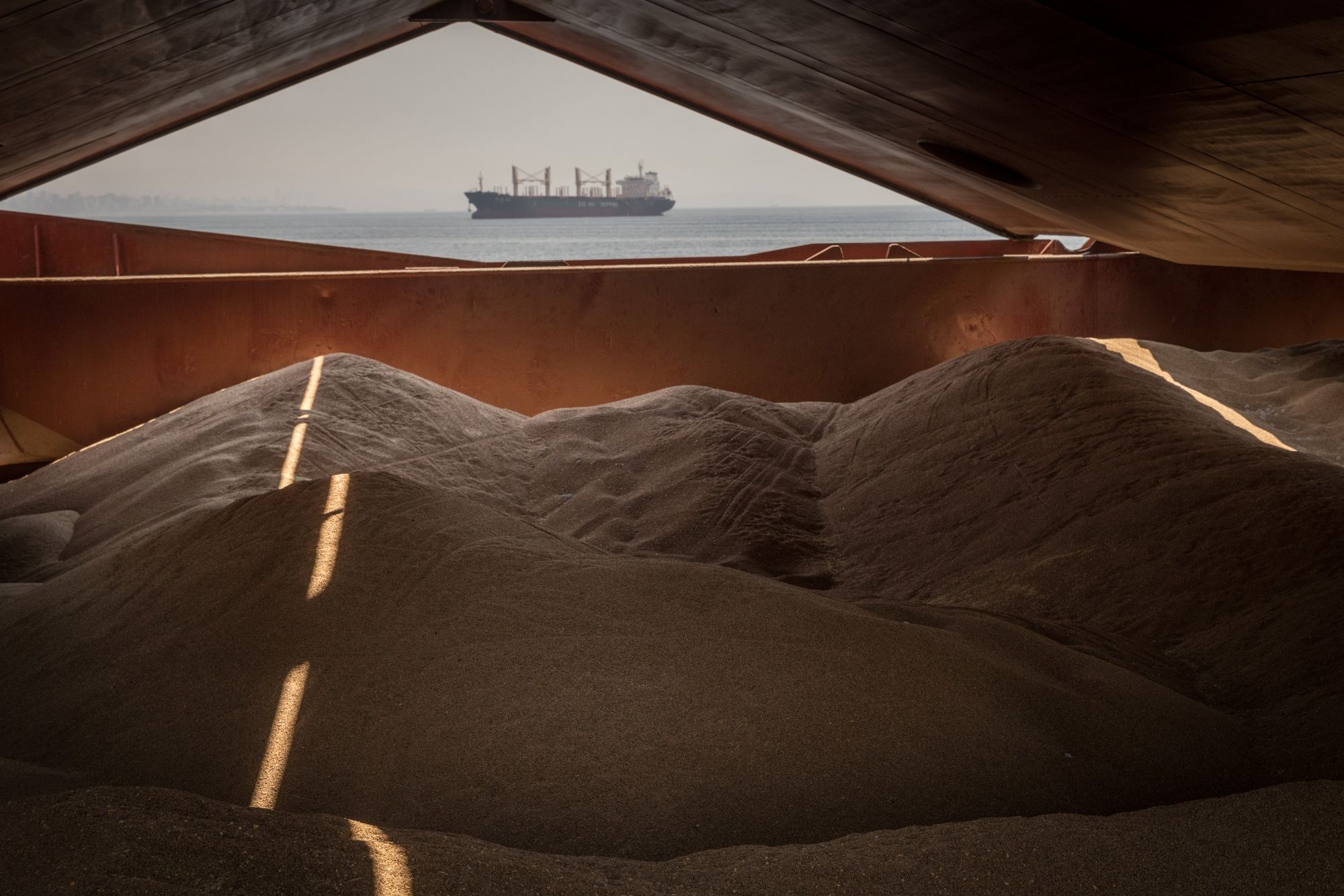 For several months now, Amur 2501, a small Russian cargo ship with a prominent white bridge section and a long barge-like body, has been making curious runs in the Black Sea.
It collects grains not just from the Russian port of Azov but also from Sevastopol in sanctions-hit Crimea — a harbor from where Ukraine says almost all departing commodities are stolen from its occupied territories by Kremlin troops. At several points during its trips, Amur 2501 goes dark, with its tracking system not transmitting its location. It then appears to participate in multi-ship transfers of cargo in the open seas off the Russian port of Kavkaz with large vessels that then proceed to countries including Libya and Iran.
Satellite images, loading and unloading data compiled from ports and vessel-location transmissions obtained by Bloomberg place ships like Amur 2501 at the heart of what industry experts say is Russian shippers' illicit commodities trade. The exporters are mixing grain from multiple ports and vessels, obscuring the origin of commodities like wheat and barley, and allowing large volumes to be sold abroad without detection.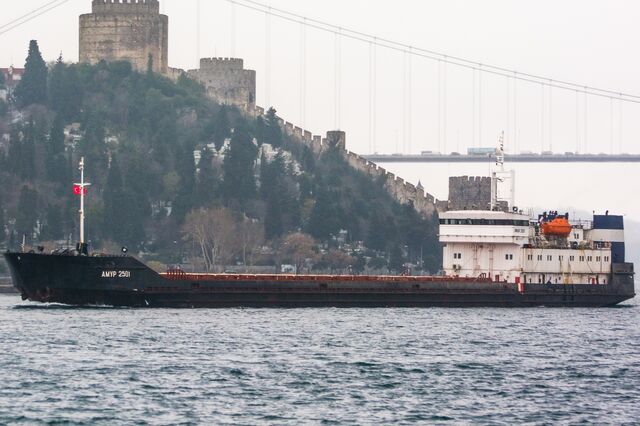 "They're using ship-to-ship transfers between legitimate and illegitimate products to mix them in order to try to launder them into a legitimate supply chain," said Ian Ralby, chief executive of I.R. Consilium, a maritime law and security consultancy. "They are working to launder the grain to create a degree of legitimacy or clarity of title so that they can engage in transactions with countries that really need the grains."
With President Vladimir Putin's escalating war in Ukraine stoking concerns of a fresh threat to Black Sea grain exports, demand and prices are likely to remain high, providing an even greater incentive to continue the laundered trade. The annexation of four Ukrainian territories at the end of September, which Russia said may add 5 million tons to its annual grain harvest, might have emboldened some exporters to more openly carry commodities from Sevastopol. But with much of the world refusing to recognize the land grab, the clandestine activity is continuing, according to Windward, a maritime risk consultant.
Before the conflict, Russia and Ukraine accounted for a quarter of the world's grain exports. So when Ukraine's ports were blocked in the early months of Russia's invasion, grain shipments were cut off, raising the specter of food shortages. A safe-corridor deal struck in July allowed Ukraine to resume exports, but shipments are still running 36% lower than last season. The intensifying conflict is now spurring fears that the deal won't be extended when it expires in about a month, just as the latest harvest winds down to bring fresh grain to the market.
From the last season's harvest, Russia stole or destroyed 4.04 million tons of grain and oilseeds valued at about $1.9 billion in Ukrainian territories, Roman Neyter at the Kyiv School of Economics estimates. Some shipments were exported directly from Crimea by Russian ships, but attempts to sell such commodities appear to have run into trouble — Egypt refused one undocumented shipment. Laundering grain allows shippers to hide its origins so it can make its way into eager Middle Eastern markets without a hitch.
The laundering techniques the grain shippers are using were first employed by oil exporters connected to Russia, Venezuela and Iran to evade sanctions.
"Ship-to-ship transfers are a common method of deceptive shipping practices initially used to circumvent sanctions on oil," said Gur Sender, a maritime product manager at Windward. "(They) involve the use of dark activity and STS transfers."
Although it's difficult to definitively say that the grain carried by ships like Amur 2501 was stolen from parts of Ukraine occupied by Russia, the numbers tell a story that's hard to contest.
The Russian-occupied enclave of Crimea has shipped more than ten times its usual food-export volumes since March, according to Geneva-based researcher AgFlow, which compiles and cross-references data based on inspection reports, bills of lading, port lineups and other trade information. In the first few months after the war, shipments were at 50 times usual levels. A group of more than 30 ships have been calling at Sevastopol, some multiple times, according to AgFlow data.
Also, farmers in occupied areas have reported grain being taken away by truck, and visuals from Planet Labs PBC and Maxar Technologies, satellite imagery providers, show convoys arriving from the direction of Ukraine — likely carrying the commodity — and lined up at the grain terminal at Sevastopol. Russia annexed Crimea in 2014.
"It's quite an elaborate scheme to hide the illicit origin of the grains, and it's really a new low to use sanctions-evasion techniques perfected in the Iran and North Korea context on a food item," said Justyna Gudzowska, Director of Illicit Finance Policy at The Sentry, a non-profit organization that investigates global corruption networks. "Food shouldn't be weaponized the way it is here."
The Russian state is likely complicit in the grain laundering, said Gudzowska, who has advised the US Treasury Department's Office of Foreign Assets Control that handles sanctions.
"At a minimum Russia knows about the grain smuggling and it's tolerated," she said.
A spokesperson for the Kremlin redirected a request for a comment to Russia's defense ministry, which didn't respond.
As vessels like Amur 2501 continue their activities, a detailed look at one of its runs in early July demonstrates exactly how the laundering process works. Images from Planet Labs show the ship loading at Sevastopol. Then ship-tracking shows it going dark and reappearing alongside multiple bulkers in the open sea that's the Kavkaz anchorage. It shows up at various points on ship-tracking next to such large vessels as Vera P and Petra I with the bulker Dynamic M and cargo ship Volgodonsk, on the other side. Bloomberg.com readers can watch one of the ship transfers in a visualization by Spire Global Inc. here.
Granted, international and local traders have long exported Russia's own grain from the Kavkaz harbor on the sea by the Kerch Strait, bringing it on smaller cargo boats like Amur 2501 from ports in the Azov Sea, which is too shallow for bulkers. They are then loaded onto larger vessels so that bigger volumes can be shipped across the Black Sea and through the Bosphorus to customers in the Middle East and Africa. That system has provided exporters of grain picked from Sevastopol an ideal cover for their illicit trade.
"If they are loading from two ships at the same time, it's very likely they're loading from ship #1 to ship #3 through the use of ship #2 in the middle," said Alexandros Glykas, a maritime professor at the Alba Graduate Business School in Athens and director of Dynamarine Co., which specializes in risk assurance for ship-to-ship transfers globally. "You would do this perhaps to manipulate the cargo's bill of lading. The more ship-to-ship transfers you are doing, the more difficult it is to trace the origin of the cargo."
Write to us
Our manager will contact you soon
//= do_shortcode('[contact-form-7 id="284" title="Бесплатная консультация"]'); ?>