Corn prices in Ukraine remain high amid the growth of the dollar exchange rate and the adjustment of World quotations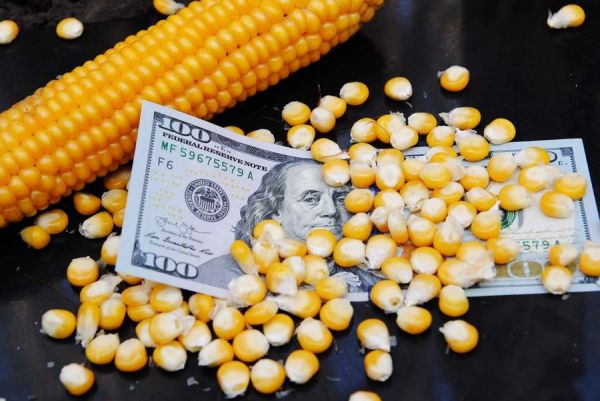 Quotes for corn on world stock exchanges against the background of a sharp increase in oil prices slightly recovered after falling last week.
In Ukraine, purchase prices for corn remain at a high level of 8400-8500 UAH/ton in ports due to the fall in the hryvnia exchange rate against the dollar during the week by 2.4%, which compensated for the decrease in prices in foreign currency by 1.7-1.8% to 263-265 $/ton in the port.
After the attack of Houthi drones on an oil base in the UAE, oil prices have risen by 2.8% since Monday, in particular, March Brent crude futures reached a 7-year high of 8 88.4/barrel. Quotes are also supported by tensions between Ukraine and Russia.
Monday in the United States was a weekend, so exchanges resumed work yesterday, and corn prices began to rise on data on increased export volumes and rising oil prices.
March corn futures on the Chicago Stock Exchange rose 1.1% to 2 237.5/ton, crossing the psychological level of 6 6/bushel.
According to the USDA, during January 7-13, corn exports from the United States increased by 17.7% compared to the previous week to 1,204 million tons, of which 349 thousand tons were purchased by China and 347 thousand tons by Mexico. In total, exports totaled 15.288 million tons in the season, which is 12.6% lower than last year's pace and almost corresponds to the projected decrease in export volumes in the current season by 11.9%.
March Black Sea corn futures in Chicago also rose 0 0.75/ton to.277.5 / ton.
March European corn futures on Paris ' Euronext rose 1.25 €/ton to 240.25 €/ton or 2 272.15/ton from Monday, but remain under pressure from low demand.
According to Chinese customs, the country imported 1.33 million tons of corn in December, which is 40% less than a year ago. However, the total import of corn in 2021 amounted to a record 28.35 million tons, which is 150% higher than the 11.3 million tons imported in 2020.
Heavy rainfall in Argentina and Brazil improves corn crop conditions and production forecasts. According to the Conab news agency, as of January 15, 94% of the planned areas were sown with Corn of the first harvest in Brazil (95% last year), and in the southern states it has already begun harvesting and threshed 4% of the areas. In addition, 1% of the area has already been sown with second-crop corn, the production of which in Brazil, according to Safras and Mercado, will amount to 115.6 million tons, which is lower than the December forecast of 116.08 million tons, but 600 thousand tons higher than the January USDA estimate.
Write to us
Our manager will contact you soon
//= do_shortcode('[contact-form-7 id="284" title="Бесплатная консультация"]'); ?>